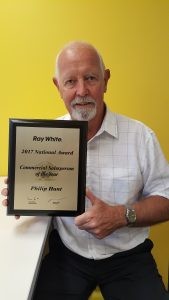 Ray White Commercial Tauranga's Philip Hunt has been named Commercial Salesperson of the Year at the annual Ray White New Zealand National Awards.
It was the second year in a row that Philip Hunt has been honoured as Commercial Salesperson of the Year at Ray White's National Conference.
In December, 2016, Philip also became a major shareholder of Ray White Commercial Tauranga.
Philip moved to Tauranga more than two decades ago from home town Palmerston North where he owned and operated garden centres for 17 years.
His specialty and passion is Tauranga CBD office and retail market, as well as industrial building and commercial land in the wider BOP area.
Philip has also regularly been achieving perfect 10 out of 10 scores in Ray White customer surveys.
As part of the Ray White customer experience strategy, feedback is sought from clients in an email survey and agents are given a net promoter score (NPS).
The NPS is a simple metric that represents how likely a client would be to refer the agent to other people with a 10 the highest score possible and an indication the customer would be highly likely to recommend the agent.